What's Best in Mykonos, Greece!
1.Try Kite Surfing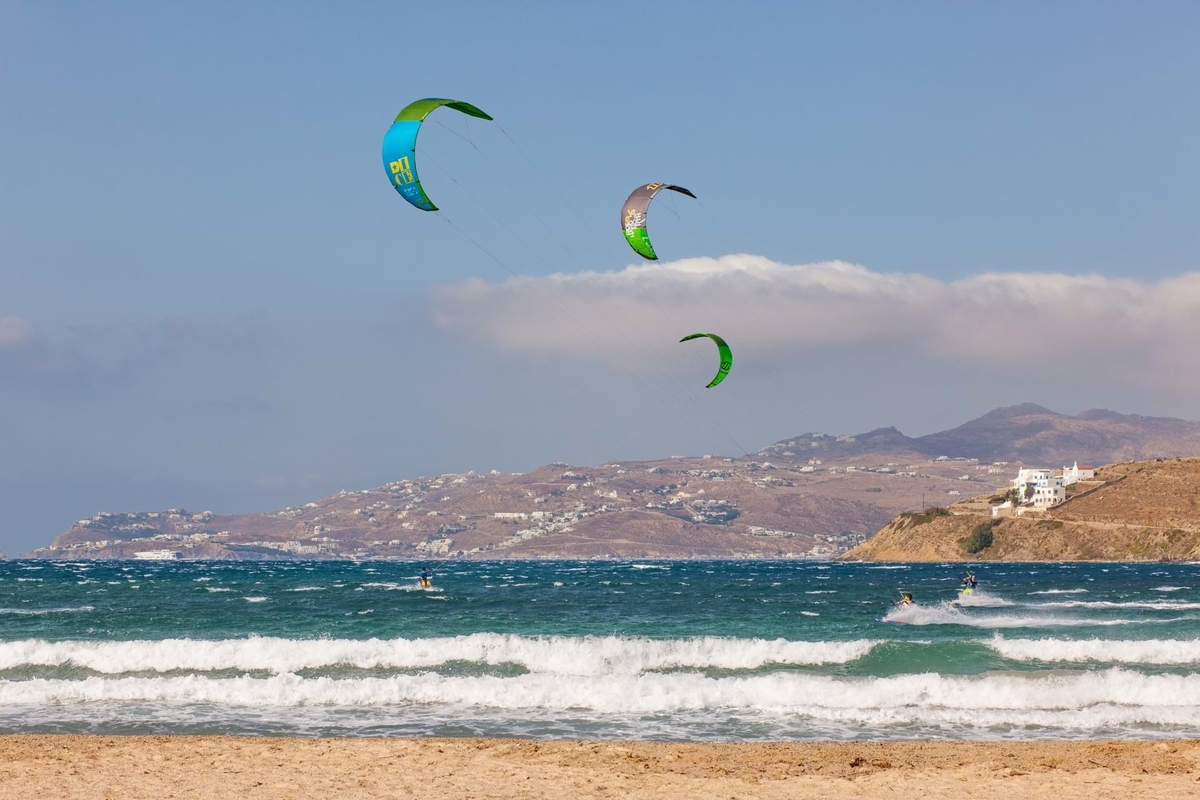 Korfos Bay has excellent conditions for kite surfers. While I still haven't tried it myself, it looks like a blast! Check out Kite Mykonos for more info.
2. Hit the beaches
There are countless beautiful beaches in Mykonos, so be sure to check out at least a few. Party at the famous Tropicana Beach bar at Paradise Beach or work on your bronze at Paraga Beach.
3. Visit the Armenistis Light House
While the lighthouse itself isn't that remarkable, it's a fun day trip on a scooter. Plus, the panoramic view from the lighthouse is absolutely stunning!
4. Party until sunrise
Mykonos nightlife is well-known around the world. Start the party at one of the beach clubs and continue until the sun comes up! Be sure not to miss the Scandinavian Bar, Tropicana Bar or Paradise Club for some of the best parties in Mykonos. Be sure to check out my complete Mykonos Beach and Party Guide!
5. Scuba dive
Discover ancient Greece… underwater! Dive to ancient shipwrecks and check out the sea life at the reefs. The Peloponnese Wreck off Mykonos is one of the most iconic dives in the Greek islands. (Be sure to go with a PADI dive center!)
6. Little venice
This famous stretch of seaside restaurants and shops is a great spot for evening strolls at sunset. It might break the bank, but have dinner at one of the restaurants here for one of the most picturesque meals in Mykonos.
7. The windmills
Another must-see is the windmills of Mykonos. They are one of the most iconic symbols in Mykonos and some date back to the 16th century.
8. Visit Gioras Wood Bakery
When the wood ovens first fired up in this basement bakery, the Byzantines still ruled Constantinople and Christopher Columbus' father was a toddler. Founded in 1420 and operated by the same family for the last 200 years, it's a great place to stock up on mini spinach pies, baklava and all manner of traditional biscuits. Avoid the coffee, though.
9. Relax at Agios Sostis
This gorgeous, wide strip of golden sand receives far fewer visitors than the south coast. There's no shade and only limited parking but there's a popular taverna with a little sheltered cove directly below it.
10. Visit the Archaeological Museum of Mykonos
A headless, almost limbless 2nd-century BC statue of Hercules in Parian marble is the highlight of this small, well-presented collection. Otherwise it's very heavy on pottery and funerary stelae (carved monuments), much of it sourced from Delos and the neighbouring island of Rineia, which served as its cemetery. Periodic exhibitions incorporate contemporary art and design into the displays.